"Some of the largest vessels ever
constructed on the planet were built
right at the end of my street."
— STING —
Sting grew up in the shadow of the shipyard, with giant ships rising into the air at the end of his street. Newcastle-Upon-Tyne was at the heart of the British shipbuilding industry.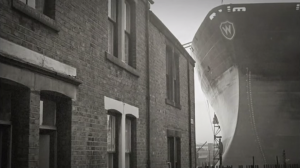 The Dream
But instead of wanting to follow in the footsteps of generations of Tynesiders whose lives were inextricably linked with the docks and the shipbuilding industry, Sting had a different dream. It was one that grew exponentially with the discovery of a guitar in the attic at the age of 8 . "I was bequeathed a guitar and realised I had found a friend for life."
 The dream would become his life and Gordon Sumner would become internationally known as the musician Sting, but first he had to turn his back on his roots and travel away. He had no desire to return to the traumatised society he witnessed during the closure of the ship building industry.
 "I believe there's a symbiotic and intrinsic link between storytelling and community, between community and art, between community and science and technology , between community and economics.
It's my belief that abstract economic theory that denies the needs of community or denies the contribution that community makes to economy is shortsighted, cruel and untenable"
— STING —
 The muse Sting chose to follow as a singer/songwriter and multi-instrumentalist was one that would bring us such unforgettable songs as   "Roxanne", "Fields of Gold", "Message in a bottle", "Every Breath You Take" and "Englishman in New York".
 Sting's astonishing success both as a member of "The Police" and during his solo career, together with his prolific song-writing ability made it particularly difficult for him to come to terms with a long period of "writer's block" which  stretched into years of self-questioning.
 He eventually acknowledged a need to return to his roots in Newcastle, a decision which was to reunite him with his muse and he has spent the past few years working on a theatrical production called "The Last Ship" – inspired by the demise of the shipbuilding industry in the North East. 
Sting released the album "The Last Ship" in 2013 and the musical production launched its pre-Broadway tryout in Chicago last Wednesday with songwriters Paul Simon, James Taylor and Dennis DeYoung watching from the orchestra seats, according to the review by Chris Jones in the Chicago Tribune.
Political Activism
A sense of the injustices caused by corrupted power led Sting along the path of political activism, participating in many of the focal moments in which creative artists have joined forces to raise international awareness of major issues: Band Aid, Live Aid, Feed the World", Live8 etc.
 His long involvement with Amnesty International which  began with his appearance at the "Secret Policemen's Other Ball" in 1981 has inspired some of the songs he has written.
"Before that I did not know about Amnesty, I did not know about its work, I did not know about torture in the world" .
 Sting's song "They Dance Alone"  threw a spotlight on the plight of the mothers, wives and daughters of "The Disappeared" (political opponents killed by the Pinochet regime) in Chile. These women, under constant threat from Pinochet's infamous death squads, were afraid to voice their opinions publicly but would pin photos of their missing loved ones to their clothing and dance in public places in unspoken outrage.
Dendropsophus Stingi and The Rainforest Foundation
Sting, his wife Trudi and Raoni Metuktire, a Kayapó Indian leader in Brazil, founded the "Rainforest Foundation" to help save the rainforests and protect the rights of the indigenous people living in them.  (In recognition of his "commitment and efforts to save the rain forest", a species of Colombian tree frog, Dendropsophus stingi, was named after him.)
In addition to 16 Grammy Awards, a Golden Globe, an Emmy and several Oscar nominations. Sting has sold nearly 100 million records worldwide, was 62nd on Paste Magazine's list of 100 Best Living Songwriters, 63rd on VH1's "100 Greatest Artists of Rock" and 80th on A magazines "100 Greatest Musical Stars of the 20th Century"
Read More
Anna Gracemann is an 11-year-old singer-songwriter, born and raised in the beautiful Southeast Alaska. Her mother played classical music to her before she was born and after she was born her mother spent many hours singing, reading and playing music to her. At just a few months old her parents started displaying flashcards for her to read and gain word association. All of this together sparked her love of music and words and her natural confidence in the medium of music and song.
Much of the inspiration from her songs comes from her home in Alaska, as well as from the work of other musicians and her family and friends."Take Me Where I want To Go" and "Paradise" draw on imagery from hikes and walks in Alaska in the company of family and friends.
She enjoys seeing how much people like her music and is encouraged by the fact that through her music she has the ability to affect people in a positive way, but says even if she had no audience, she would still feel the need to perform "it is also about expressing what is inside of me. I think that even if no one listened to my music; I would still do it. It is something inside of me that I just need to do."
She has always loved to sing and at 18 months was singing the melody of complete songs. By the time she was 2 she was happy to sing to large groups, her audiences astonished at her ability at such a young age. At 4 she started learning to play the piano seriously, writing her first song "So I Cried" at 6 years old while still in first grade. Her deep lyrics and early understanding of musical composition has amazed many.
As a rule in her house there is no cable T.V. and other entertainment is limited, so when Anna is not playing her piano or singing she spends many hours reading and writing stories. She loves to write mythical stories. She also enjoys swimming or riding her bike in the summer and skiing or sledding in the winter. She is a great down hill skier! She spends many hours practicing her music: singing, playing piano and writing. She currently takes classical piano lessons and is learning how to play the guitar. She loves her Big Baby Taylor!
She has a love of learning, encouraged through the Montessori program and wants to be a singer, song writer and story writer in the future. Many thanks to her piano teachers, school teachers, school counselors, parents and other family members for their encouraging confidence in her that has and still motivates her success.
Anna Graceman loves her homeland Alaska. She is moved by the beautiful and stunning scenery and devoted and friendly community. Anna has a gift that she wants to share with all in hopes that through her music she can make a difference in this world; that she will encourage others, especially children, to find and nurture their gift and use those gifts for good on this earth.
She has written many songs, both lyrical and instrumental, 35 of which have been released in various forms.
Some of the songs she has written:
"Army of One"
"Believe"
"Dancing on Cobblestones"
"Don't Bring Me Down"
"Dressed in Blue"
"Give me your Heart"
"Have I Told You?"
"Heart and Hands"
"Hush Little Baby"
"It's Love"
"Longer and Longer"
"Me and My Piano"
"Silly Dreamer"
"So I Cried"
"Take Me Where I want To Go"
"Paradise"
"You Knew Me"
"You're My Gift for Always"
References:
Jaclyn Salamone interview with Ana Graceman
Read More